Our company
Geniki Syskevastiki Tsironis Ltd, was founded in 1988 in Mandra Attica by Tsironi Panagioti and Tsironi Meletia.
From the beginning of the company until today the company is operating systematically on the specific sector of product packaging and standardization for third parties.
Geniki Syskevastiki Tsironis Ltd. is located at Konstantinoupoleos, Sinikia Papakosta – Mandra Attica.
In 2006, the company converted in LTD., enriched its customer base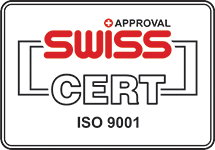 της, creating new permanent and temporary collaborations which led to an increased work rhythm.
Lastly, Geniki Syskevastiki Tsironis Ltd in the last few years proceeded to the general upgrade and replacement of the old machinery with more advanced equipment, in order to meet its customers' demanding needs for special packaging. A Characteristic example is the "continuous-flow" packaging machines
The company applies the certified quality management system ISO 9001:2008 (SWISS).
General Electronic Commercial Registry (G.E.MI.) 112135908000